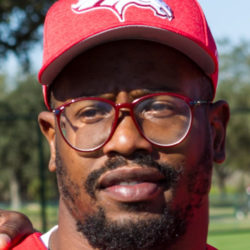 The Buffalo Bills announced Wednesday that Von Miller is out for the remainder of the season after having surgery for an ACL injury. Miller underwent exploratory surgery in Texas on Tuesday and an ACL injury was found in his right knee. The pass-rusher was placed on injured reserve last Thursday before the game against the New England Patriots, with the hope he would return this season. The Super Bowl 50 MVP suffered the injury on Thanksgiving at the end of the first half of the win against the Detroit Lions.
Miller, who signed with the Bills in the offseason on a six-year, $120 million contract, started every game this season except Thursday's and leads the team with eight sacks and 38 pressures. Miller said in a video posted to his social media accounts Wednesday: "I'm good, man. I'll be right back … Mentally, I couldn't be in a better spot, man, and I think that is the majority of it, man. Don't feel sorry for me. Don't say I hate it for you. None of that stuff cause I am good. I'm excited for the opportunity to show my teammates how tough I am, how hard I work and how important that this means to me."
The Bills (9-3) currently have the top seed in the AFC with three games to come against the AFC East, but have now lost two key defenders to season-ending ACL injuries in Thanksgiving games in back-to-back years. Cornerback Tre'Davious White is coming off playing in his most complete game since tearing his ACL in New Orleans last season. White returned to the field for the first time since the injury in the game against the Lions.
Editorial credit: Jamie Lamor Thompson / Shutterstock.com