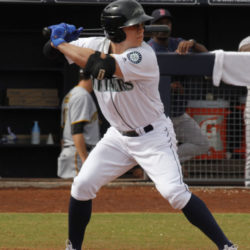 One day after Arizona Cardinals manager Oliver Marmol criticized his effort during a loss to the Atlanta Braves, outfielder Tyler O'Neill was benched on Wednesday. O'Neill was absent from the Cardinals lineup ahead of their matchup against the Braves on Wednesday afternoon in St. Louis, with Dylan Carlson instead listed as the Cardinals' starting center fielder in Wednesday's lineup. O'Neill started in center field in four of the Cardinals' first five games of the season, and appeared in the other game as a pinch hitter and outfielder.
Marmol had taken issue with O'Neill's effort when he was running the bases in the seventh inning of the Cardinals' 4-1 loss to the Braves on Tuesday in St. Louis. O'Neill singled to left in the second at-bat of the half inning, and Cardinals right fielder Jordan Walker singled in the next at-bat to move O'Neill to second base. After Cardinals designated hitter Juan Yepez was out, pinch hitter Brendan Donovan was brought to the plate, who hit a single off relief pitcher Dylan Lee. O'Neill jumped off second base and rounded third, when Braves right fielder Ronald Acuna Jr. fielded the ball and threw to catcher Sean Murphy, who tagged O'Neill out as he slid near home.
When asked about O'Neill on Tuesday, Marmol told reporters: "We've got a lot of guys playing really hard. That's not our style of play as far as the effort rounding the bag there. It's unacceptable. … Your effort is 100% until you are told not to." Marmol said he already addressed the situation Tuesday night with the Cardinals outfielder, and reiterated his sentiment Wednesday.
O'Neill told reporters on Wednesday: "I'm just going to continue to get my work in, get my reads in and make sure I'm getting the right jump off the bat and cutting the corners as good as I can, giving it my best effort every time. I got up through the minor leagues and into the big leagues playing hard and playing scrappy. That's who I am and that's my character. I don't ever want anyone to take that away from me … These conversations definitely could have been had in house. … Should have been handled differently in my opinion, but who's to say?"
O'Neill is hitting .294 with a home run and two RBIs this season. The two-time Gold Glove Award winner hit .228 with 14 home runs and 58 RBIs in 96 games last season, and hit a career-high 34 home runs in 2021.
Editorial credit: Keeton Gale / Shutterstock.com